Nottinghamshire team treks 52 miles through India floods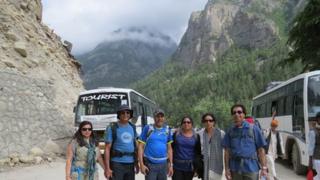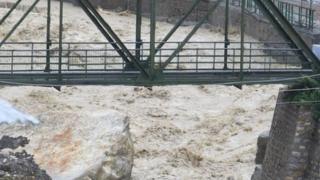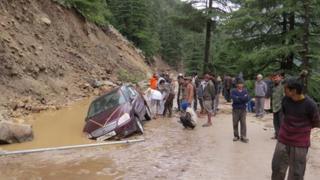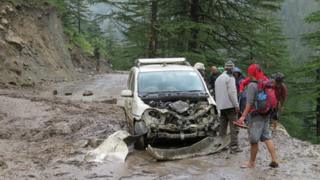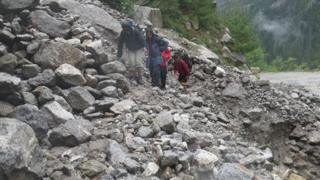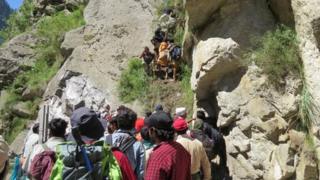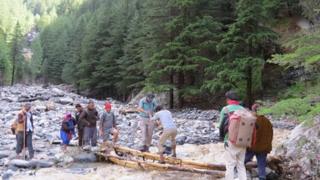 Six trekkers from Nottinghamshire walked 52 miles (84km) to escape floods that have killed more than 800 people.
The team of medical professionals from Ruddington and Wollaton were on an organised expedition to the base of the Ganges.
They had been in India a week when torrential rain began to fall, cutting off several towns.
After being evacuated from a hotel, they spent three days walking to safety in "desperate" conditions.
Sukhdev Attwall, 56, a dentist from Ruddington, was one of those on the trip to the Indian state of Uttar Pradesh, together with his wife Kiran.
He said: "We had done our trek to the glacier at the base of the Ganges and weren't aware of what was happening until we came back down the mountain and saw the whole town had been cut off."
'Horrible cracking noise'
He said the team had tried to take shelter from the rain in a hotel on the banks of the Ganges.
"We were trying to dry off and relax when we heard a horrible cracking noise," he said.
"We looked out of the window and we saw people on the other side of the river shouting 'get out'. A nearby hotel had collapsed and the one we were in was teetering."
After being evacuated, the team of doctors, dentists, pharmacists and opticians, all in their 50s, were led down the mountain by a Sherpa guide provided by the trekking company.
"We saw whole villages which had been washed away," said Mr Attwall. "The road was completely gone in places, making it impossible for vehicles to pass."
The group also had to climb across a sheer rock face.
"The previous day, three people had fallen off it and had unfortunately died," said Mr Attwall. "Volunteers had placed ropes at the site to make it easier but it was heartbreaking to see elderly people in bare feet scrambling across. It was sheer desperation.
"We didn't know where our next meal would come from. We didn't know where the next fresh water supply would be."
He said the team had drunk water from flowing streams, after they ran out of bottled water.
He and his friends also had no way to let their families in the UK know they were safe.
"We had been due to check into a mountain spa and when we didn't show, people realised something was wrong," he said.
"There was no traffic and no communication. Mobile phones were useless."
Eventually they met up with the trekking company, who drove them to the nearest major city. They caught a flight from Delhi to Heathrow and arrived back in the UK on Tuesday.
Mr Attwall said many of the party had never been trekking before. "We feel in shock about what we have been through," he said.
He said he now aims to raise money for victims of the disaster.