Nottingham's Victoria Centre 'facelift' plans submitted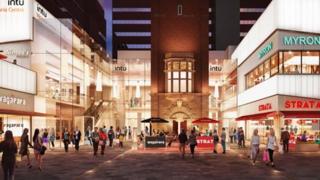 Plans to create food courts and renovate the entrance of a Nottingham shopping centre have been submitted.
Under the proposals, 12 restaurants would be built around the Victoria shopping centre's clock tower entrance.
The work is part of a £390m scheme to extend and renovate both the Victoria and Broadmarsh centres by owners Intu.
New plans for the other entrance were submitted separately in April but the city council says its priority is still to develop the Broadmarsh centre first.
'Get it right'
Plans were originally submitted for the Victoria Centre in 2011 but the owners said the application was put on hold by the city council who wanted assurance that Broadmarsh would be prioritised before signing it off.
Intu says it is now close to agreeing a deal with Nottingham City Council over the Broadmarsh scheme.
Councillor Graham Chapman, deputy leader of the council, said the Broadmarsh was a priority as it was seen as a "gateway into the city from the refurbished railway station".
He said: "We are delighted, it is giving a great deal of confidence to the city, the fact that they (Intu) are going to invest so much.
"But because it is so big we have got to be very careful that we get the right thing for them and the right thing for us."
While the council has not given reasons for the delay, Intu says it wants to start work on Broadmarsh because "it is within their control to do so".
Manager Janine Bone, said: "It is our intention to get on with the extension and redevelopment of the Broadmarsh as soon as possible.
"The Victoria is 40-years-old and we recognise it's in need of investment and it's time it had a facelift."
Once both the latest plans are approved by the council, work is expected to start on the Victoria Centre in February 2014 and will take a year to complete.