Nottingham Station: 'Five weeks of pain' and how it affects you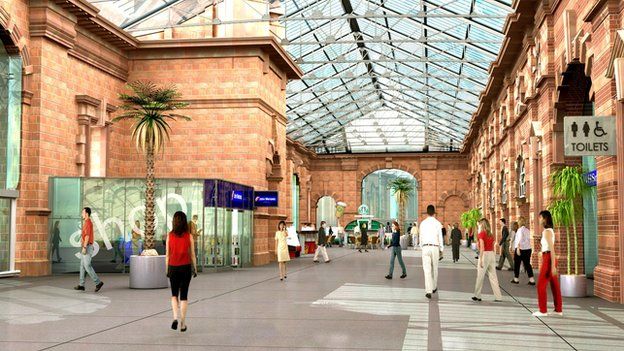 It has been called a modern transport hub for the East Midlands.
And, according to Network Rail, the £100m redevelopment of Nottingham Station will improve reliability, reduce delays and help it cope with the station's ever-growing number of passengers.
But before then, passengers will endure what transport groups are calling "five weeks of pain" as most services are suspended between 20 July and 25 August.
So what will the closures mean for passengers? And will the gain be worth the pain?
Why is the station closing?
The station is undergoing two major facelifts - both to the building itself and the tracks and signals.
They are the first large-scale refurbishments to take place there since 1904.
The building redesign has been ongoing since October 2012 and is due to finish in winter 2014.
These improvements include a new, refurbished concourse and ticket office and a new station tram stop.
The whole station is also being cleaned and glass panels are being inserted into the platform canopies.
Extensive changes are also being carried out on the station's porch - currently a taxi rank. It will become a passenger walkway with new flooring and cafes.
But most of these very obvious refurbishments have not caused any major difference to services.
Instead, it is the five weeks of "unseen changes" - less spectacular refurbishments such as signalling and level crossing improvements - that will see the station close to all but a few services in July.
Network Rail claims this work will make a big difference to efficiency.
"Everything from the track to the signals is being dug up and replaced with new and better kit, not just at the station but in both directions," said spokesman Chris Denham.
"That will allow us to run things much more reliably and run everything much more smoothly."
The signalling is being designed with electrification in mind so disruption will be reduced when the track is upgraded by 2019.
A new platform will also be built.
"The platform will allow us to run more trains, more reliably through this station," added Mr Denham.
How will services be affected?
During the refurbishments, buses will replace trains between Nottingham and certain stations, notably East Midlands Parkway, Derby and Mansfield.
"East Midlands Parkway station will become the key transport hub for connections to and from Nottingham," said an East Midlands Trains spokesperson.
If you're travelling to London, trains will start and finish at East Midlands Parkway. A replacement bus service to Nottingham will operate approximately every 10 minutes. If you want to go to Leicester, you'll have to go from East Midlands Parkway or Loughborough.
In the north, the Robin Hood Line, which runs between Worksop and Nottingham, will be closed for upgrades. Buses will run every 15 minutes from Mansfield to Nottingham - and once an hour between Mansfield and Worksop.
In the east, the route between Liverpool and Norwich will follow a diversion and not call at Nottingham or Grantham. All services will instead call at East Midlands Parkway, where replacement buses will run to Nottingham, Grantham and Newark.
Direct train services will run between Nottingham and Skegness for 23 out of the 37 days of the works, as the period is the seaside resort's busiest time of the year. If you're travelling to Skegness on one of the remaining 14 days, you can catch an hourly bus service between Nottingham and Grantham, with an hourly train service connecting at Grantham for services through to Skegness. There will also be an hourly express bus service from Grantham to East Midlands Parkway.
Finally, anyone travelling between Newark Castle and Nottingham will be able to catch a replacement bus, although from 10 August daytime train services between Nottingham and Lincoln will resume. There will also be an hourly express bus service between Newark and East Midlands Parkway.
In the west, passengers travelling to Nottingham will need to catch replacement buses from Derby or Beeston.
Bus services from East Midlands Parkway will terminate in Nottingham on Queen's Road, adjacent to the station.
There will be drop-off points around the city centre for rail replacement bus services from Derby, Beeston, Alfreton and Mansfield.
All departures will be from Station Street or Trent Street. The existing taxi rank on Station Street will move to Queen's Road and Trent Street.
A temporary 40mph speed limit on the A453, which connects the city to East Midlands Parkway, will still be in place, although no roadworks will be carried out during that time.
However, East Midlands Trains said any passengers arriving at East Midlands Parkway late as a result of road congestion would be accommodated on other trains.
National Express is adding a further 44 daily coach services to and from Nottingham, with additional services to Gatwick, Heathrow and the East Midlands.
A spokesperson said the coaches' timings would be monitored to try to avoid congestion in the city centre.
"We will be aware of any traffic congestion around the centre and, if necessary, the coaches will be diverted around the city centre to allow them to depart on time," he said.
What will it mean for passengers?
Passengers' reactions to the closure have been mixed.
Overall, transport bodies and business leaders believe the investment is a positive step.
Rail campaigner David Thornhill believes the "few weeks of hassle" will be worth the outcome.
"I hope it's not going to be too catastrophic," he said. "I think the arrangements East Midlands Trains have put in place are excellent and they are offering plenty of alternatives to the travelling public.
Despite such efforts, he said there would inevitably be people - such as foreign tourists - who would arrive in the city unaware of the line closures.
On the whole, though, Mr Thornhill believed those in the know would find ways of getting around the problem.
"I am a little disappointed the whole of the Robin Hood line is closed but the long-term will be beneficial," he added.
"When the rebuilding of Nottingham Station is finished, in 2014, it should give Nottingham a railway station as good as anywhere in Europe. It will have a dramatic impact on the quality of public transport in the city."
George Cowcher, chief executive of the Derbyshire and Nottinghamshire Chamber of Commerce added: "This is the only way we are going to see the improvements we need at Nottingham Station.
"But when the work is finished, it will be worth it. The days when trains rushed up to Beeston from London, only to crawl along the track into Nottingham will hopefully be a thing of the past."
Commuters are bracing themselves for the changes.
On Twitter, the consensus was that the closures were "annoying", although some users did appreciate the new-look facade.
A spokesperson for East Midlands Trains said: "We have been working on this project for three years and the amount of preparation that's gone into it has been absolutely massive.
"We are doing some things we have never done before, such as offering discounts on tickets during the five weeks for anyone who has to travel on a replacement bus."
She said the work was taking place during the station's quietest period, when there were 15% fewer passengers travelling.
Related Internet Links
The BBC is not responsible for the content of external sites.