Nottingham ring road project funding approved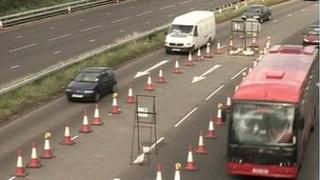 A £16.2m project aimed at easing congestion on Nottingham's ring road has received final approval.
The Department of Transport has confirmed its £12.8m funding package after the city council put in £3.4m.
It will see junctions remodelled, lanes widened and more facilities for cyclists and public transport.
The main work will begin in Aspley Lane at the end of July. Officials said it would be co-ordinated with other projects to minimise disruption.
The ring road is used by an estimated 50,000 vehicles a day and provides a link to The University of Nottingham, both of Nottingham's main hospitals and the Boots site.
Work will focus on junctions between the A60 Mansfield Road and the A52 by the QMC - at Aspley Lane, Hucknall Road and Crown Island.
Worn-out carriageways will also be repaired and street lighting upgraded.
Jane Urquhart, the city council's Portfolio Holder for Planning and Transport, said: "This is positive news for Nottingham, for commuters, businesses and public transport users.
"The long-awaited ring road scheme is part of a £750m investment to build a better Nottingham and deliver a truly world-class integrated transport system."
Officials admitted there would inevitably be some disruption during the work but insisted lane closures would be kept to an absolute minimum and major works will be scheduled for off-peak travel times where possible.
It is due to be completed by summer 2015.
The work is phase one of a larger plan for the ring road. A separate application has just been submitted for £8m of funding to widen Basford Bridge and the Western Boulevard slip road, along with remodelling the Edwards Lane roundabout.