East Midlands sees £15m housing benefit cuts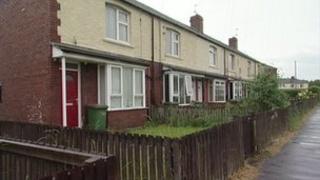 Housing benefit payments in the East Midlands are being cut by more than £15m this year under the government reform of the welfare system.
Figures from 18 of 21 local councils, responding to a BBC Freedom of Information request, show about 22,700 tenants had their benefit reduced.
The government said the changes, which reduce help given to tenants with spare rooms, make the system "fairer".
A spokesman said: "Reform of housing benefit is essential."
'Fairly logical'
The figures show that 18,340 tenants in the region lost an annual £600 in benefits for having a spare bedroom, while another 4,329 tenants lost about £1,000 for having two or more empty rooms.
Beverley Delahye of Nottingham, who has an empty bedroom because her son is away at university , said: "I may soon be on the street. I am really worried and stressed out. I haven't got any money to pay."
Nottingham resident Roy Smith, who moved from a three-bedroom house to a single bedroom flat, said he had mixed feelings about the cuts.
"Part of me can see that is fairly logical because they need the space in the larger houses, but on the other hand it seems unfair in that I have been living in the house for all my life and now I have had to move," he said.
The government has set aside more than £2.5m for councils to support the most vulnerable tenants.
A spokesman for the Department for Work and Pensions (DWP) said: "We always monitor the impact of our policies carefully but there is no conclusive evidence that people affected by our housing benefit reforms are not getting the help they need.
"This reform will save hard working taxpayers almost £1bn (across the country) over the next two years and will help restore fairness to our housing benefit system."