Nottinghamshire Police stop-and-search powers 'need overhaul'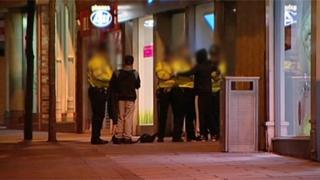 Nottinghamshire Police should overhaul its use of stop-and-search powers, according to a report which suggests the force is perceived as racist.
The report was commissioned following concern that black people in the county are nine times more likely to be stopped and searched than white people.
The use of the powers has contributed to "problematic relations with the police", the report states.
The force said it was already working to improve stop-and-search.
Assistant Chief Constable Simon Torr said: "Over the last year we have introduced a number of key measures to ensure officers are using the powers fairly, responsibly, with respect for those who are being searched and without unlawful discrimination.
"We accept there is still more for us to do to ensure communities are confident in the use of these powers, but we have a clear action plan to drive our stop-and-search activity focusing in higher crime areas, and are determined to work with local people to improve the effectiveness."
'Good progress'
He added that the report is one of several to address the force's use of the powers.
The report was commissioned by Paddy Tipping, the county's police and crime commissioner.
It examined the policing experiences of 550 black and ethnic minority (BME) residents from Nottinghamshire.
Mr Tipping said: "We've already made good progress in our pursuit of equality and fairness, particularly around community engagement.
"It is clear that more needs to be done and the pace of improvement is likely to quicken with this research to draw on for guidance."
The study was led by Professor Cecile Wright, from the University of Nottingham's school of sociology and social policy.
About two-fifths (41.8%) of the survey respondents said they had been stopped by police and just under a third (29.5%) said they had been stopped and searched.
'Institutionally racist'
Of all of those stopped and searched, just under half (48.7%) say they were given a reason by the police.
Almost 60% of those who had been stopped and searched had undergone the procedure more than once.
The report said there is a "perception that Nottinghamshire Police is institutionally racist".
One respondent said: "Nottingham[shire] Police is the most racist police force in Britain."
Another said: "They don't like black people; even the black officers are racist to their own."
The report found that this perception made BME people less likely to consider a career with the police and less likely to report crimes.
One respondent, a 23-year-old black British-Caribbean woman from Mapperley, described an incident where a neighbour assaulted her and called her racial names.
She said she would never phone 999 again "for any reason" because the police did not attend when she reported her neighbour.