Father angry over Queen's Medical Centre infection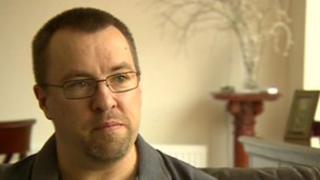 A man has criticised monitoring standards at a Nottingham hospital ward after a fungal infection was found in the ventilation system.
Five-year-old Eddy Parry, from Derbyshire, was one of nine children that were moved following the discovery at the Queen's Medical Centre (QMC).
His father Jon said he was "shocked" and wants regular tests to be carried out before infections can develop.
Health chiefs said cleaning standards were monitored closely at the hospital.
'Deep cleaning'
Eddy Parry, from Smalley, was diagnosed with bone cancer in August and has been receiving treatment on ward E39 at the QMC.
Nottingham University Hospitals NHS Trust closed the ward as a precaution after the aspergillus fungus was found, which can cause an infection in people with weakened immune systems.
Mr Parry said: "We were shocked, in particular with it being on the oncology ward. We don't understand how [the infection] came about and got to that stage.
"They need more people on that ward, and they need to be proactive not reactive.
"Get the clinical inspectors in and test on a regular basis to see if there's anything starting or developing on the ward instead of just reacting to this situation."
Jonathan Evans, from Nottingham University Hospitals NHS Trust, said: "We closed the ward, moved the patients to another environment and undertook deep cleaning and took other precautionary measures."
The trust, which was recently one of six marked as being high risk for patient care, said the source of the infection had yet to be confirmed.