Campaigners against Bilsthorpe energy plant say they 'expect a battle'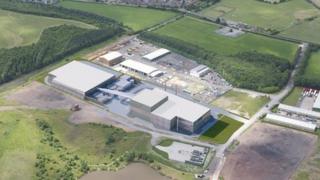 Campaigners in a Nottinghamshire village are preparing for "battle" to stop a power station being built.
Proposals for the £70m Bilsthorpe Energy Centre have been revealed to residents ahead of an application being made to the council later this year.
The plant is proposed to be built on the former Bilsthorpe Colliery site and would turn waste into electricity.
Peel Environmental, which is behind the project, said it would create 40 jobs and power up to 24,000 homes a year.
Conservative MP Mark Spencer said it was "frustrating" to be faced with the plans, months after similar proposals were rejected for a nearby village.
Resident concerns
"It feels like we are starting the whole process again, it is very frustrating to say the least," said the Sherwood MP.
"Lots of people are very concerned but I don't think everybody in the village is aware of the application that is coming.
"We are expecting a battle because these companies are well financed and organised and we need to be just as sharp to counteract their argument."
He said residents had concerns over potential traffic and lorries going through the village, odour problems, and possible gas emissions.
Peel Environmental said power would be generated through a process called gasification, which is considered to be more energy-efficient and works by reacting organic material at high temperatures to create syngas.
The plant is expected to handle around 120,000 tonnes of non-hazardous waste a year.
Development manager Richard Barker said: "The centre will be one of the most advanced facilities in the UK.
"We recognise the importance of meeting with local residents and explaining our plans. For this reason, we have held public exhibitions at an early stage of the development to ensure the community is involved at every step of the process."
He said the firm would review all residents' comments before a final planning application was submitted to Nottinghamshire County Council in the autumn.