Nottingham men sought by drug police team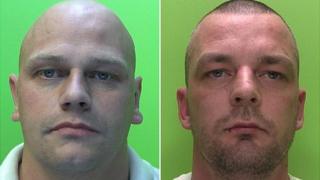 Two Nottingham men are being sought in connection with an alleged cocaine smuggling operation.
Kevin Machin, 35, and Ian Oldham, 36, have been named by South East Regional Organised Crime Unit, which said neither should be approached.
Both are believed to be in Nottingham but also have contacts across the county and in Derbyshire.
Four other men from Kent, Surrey and Derbyshire have been charged with conspiracy to supply cocaine.
Mr Machin is described as white, 5ft 8ins (1.73 m) tall, with blue eyes and cropped light brown hair, clean shaven and with a Midlands accent.
He has a two-inch scar on the left side of his face, another two-inch scar on his left hairline, a three-inch scar on his left arm, a tattoo saying "Kev" on his right wrist and a tattoo of a pitbull dog on his lower back.
Mr Oldham, also known as Iggy, is described as white and speaking with a Midlands accent, 5ft 7ins (1.71m) tall, of stocky build, with blue eyes and balding shaven mousy hair, clean shaven, with the letters "JJ" tattooed on his right arm and two scars on his left arm.