Austria ski trip teacher death: 'Crumbling road' blamed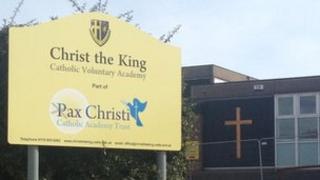 A crumbling road played a part in the death of a teacher who fell about 12ft (4m) down a bank while on a school skiing trip, a coroner has ruled.
Jonathan Taylor had been for a drink with colleagues in the Austrian resort of Matrei, but alcohol was not to blame for the fall the inquest heard.
The 44-year-old, who taught at Christ the King Catholic Voluntary Academy, Nottingham, died instantly.
The inquest heard there were no warning signs on the road.
Nottingham Coroner's Court was told Mr Taylor had been to a bar about 10 minutes walk from the hotel.
The court heard that although he was about twice the UK drink-drive limit, he was not overly intoxicated.
He was walking back with his colleagues in the early hours of 31 March when he slipped and fell on to concrete.
His colleagues told the inquest they had all drank moderately and sensibly and that the road they walked along was dark, crumbling at the edge, with no fence to prevent falling.
Nottinghamshire coroner Mairin Casey, who recorded a verdict of accidental death, said that because there were no warning signs on the road "the outcome for any pedestrian, with or without alcohol, would have been the same".
The trip was cut short after Mr Taylor's death and the children returned on coaches to Nottingham.
In a statement, the school governors said: "Jonathan was a respected, professional and gifted teacher who is greatly missed in school.
"The events in Austria were, in essence, a terrible family tragedy and our thoughts and prayers remain with Jonathan's family and friends."