Unrepaired Arnold water leak growing algae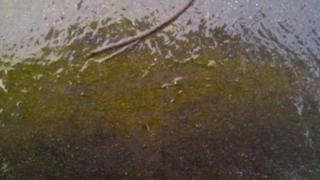 A water leak in a Nottinghamshire street has been left for so long without being fixed, algae has started growing in the escaping water.
A pipe burst in Patricia Drive, Arnold, around the time of flash floods in the county a fortnight ago.
Since then gallons of clean water have been pouring from a hole in the pavement each day.
Severn Trent Water has apologised for the delay and said it would carry out repairs and install new pipes.
'Nothing being done'
Barbara Gearing, whose property is near to the leak, said: "It has started to flood my garden.
"I have pulled the soil up to stop it going onto the drive but I'm getting a bit concerned. If there is another storm it will get worse.
"We are just waiting for somebody to do something about it."
Another resident, David Woodward, said he called Severn Trent but was told it was the responsibility of Gedling Borough Council.
Mr Woodward was then told by the borough council that it was a county council issue.
"Nothing is being done," he said. "By now somebody should have decided whose problem it is and looked into it.
"It is quite a fast flowing leak so I can only imagine how many gallons has come out. It is clean water and people moan about saving water."
A Severn Trent Water spokesman said: "We'd like to apologise to customers on Patricia Drive in Arnold near Nottingham, who may have been affected by a leaking pipe.
"Following calls at the end of July, our initial investigation didn't locate the cause of the issue.
"We then experienced heavy rainfall making it difficult to carry out further tests. Today, the samples that we carried out indicate that the leak is caused by a damaged water pipe.
"We'll be carrying out work to repair it and we're also installing new water pipes to help prevent further bursts in the area."