Has 'Derby in Bloom' turned to 'Derby in gloom'?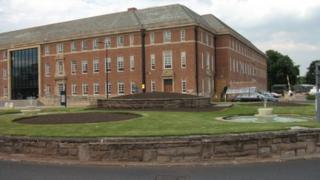 A council has denied that in scrapping its "Derby in Bloom" displays, it has turned the city into "Derby in gloom".
Derby City Council said that by removing flowerbeds from its public roads and roundabouts, it will save £102,000 over the next two years.
It said the decision was forced on it by government cuts.
But critics branded the decision "disgusting" and demanded to know why the council did not seek sponsorship for the flowerbeds.
'Desperate situation'
Labour councillor and deputy leader Ranjit Banwait said: "We are facing the worst government cuts in the history of our city.
"To make the budget balance for the next three years, we took a decision to remove the funding that allows us to plant flowerbeds.
"That's how desperate the situation is. That's £81,000 from this financial year and £21,000 from the next one.
"But, as a positive, care homes are staying open and public parks are being retained. The choice open to us is: what's more important?
"I don't think it is a case of 'Derby in gloom'.
"It is sad but we have to make impossible decisions. It is hopefully for the time being."
He added some displays would be replaced by low-maintenance shrubs and said the council had not ruled out entering Britain in Bloom.
However, John Nelson, a town councillor from Belper, which won the largest town category in the 2012 Britain in Bloom competition, branded the decision to remove flowerbeds "disgusting".
"It's disgraceful to see the flowerbeds that used to be absolutely gorgeous and now they are rubbish," he said. "All the flowerbeds in Belper are sponsored.
"We didn't expect the funding to come out of budgets.
"There are big industries in Derby. Why doesn't somebody go out and ask them to sponsor a flowerbed?"
Councillor Banwait said sponsorship had been considered and if companies or members of the public wanted to get involved, they would be welcome to do so.