Nottingham Forest Ladies' Football Club 'may fold'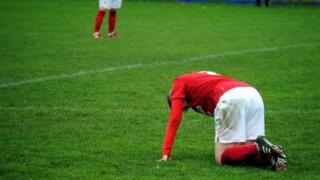 Nottingham Forest Ladies football club has warned it could fold unless funding is found in the next seven days.
The club, which missed out on a bid to join the FA's semi-professional Women's Super League (WSL) in February, said it needed at least £20,000.
Last year, the owners of Nottingham Forest's men's team said they were committed to the continuing funding of the ladies' club.
In a statement they said they would meet to discuss options moving forward.
'Sustainable business'
Lisa Dawkins, Forest ladies' director of football, said: "We are struggling again. We are in a position where we do not have some funds to continue for the rest of the season.
"We are hopeful we may get some funds from Nottingham Forest men's team.
"There have been lots of conversations happening but I don't think we can expect to rely on anybody.
"We need to try to stand on our own feet."
Nottingham Forest FC, owned by the Kuwaiti-based Al Hasawi family, said in a statement: "The club has supported the ladies' football club through offering professional advice on creating a sustainable business structure for girls' and ladies' football in Nottinghamshire to progress and develop.
"The club will be meeting with Forest Ladies officials within the coming weeks to discuss their options moving forward."
Forest Ladies, who are currently in the FA Premier League Northern Division, have had financial difficulties before.
In August 2012, the Al Hasawi family plugged a £10,000 shortfall in funding.
Omar Al Hasawi, who was Forest's chairman at the time, said: "Forest Ladies is very much a part of the Nottingham Forest community that we are proud to have become a part of.
"We are committed to the ongoing funding of Forest Ladies."
The new season is due to start on 28 August.