'Robocop' PC Diederik Coetzee retires from hit-and-run injuries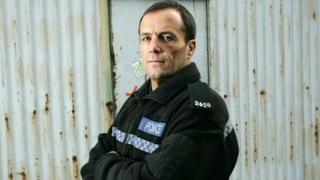 A police officer dubbed "Robocop" for his prolific arrest rate is retiring after being left for dead by a hit-and-run driver.
PC Diederik Coetzee was cycling to the gym while off-duty in 2011 when he was hit by a car which failed to stop.
Before the incident, the officer had made national headlines for his extraordinary arrest rate in Mansfield, Nottinghamshire.
In 2005, he made 309 arrests while working in the town.
Mr Coetzee, who joined his native police force in South Africa when he was just 17, said: "I miss the job but unfortunately my injuries are just too bad to return as a police officer.
'Drove off'
"I am however looking into the possibility of contributing to the force as a volunteer."
The officer, who has spent several months at a specialist rehabilitation unit in Northamptonshire, will be retiring on medical grounds at the end of this month.
At the time of the crash, which happened while he was cycling through Blidworth in November 2011, Mr Coetzee's family were told to expect the worst.
He had been found in the middle of Blidworth Lane, having suffered serious head injuries in the collision.
The man responsible, Mitchel Graham, of Grange Road, Blidworth, was jailed for 15 months after pleading guilty to dangerous driving.
He was told by Judge Jonathan Teare at the time: "You ploughed into him, throwing him into your windscreen and propelling him no less than 24m.
"You stopped for a moment then drove off knowing you had hit a cyclist, caring not when you left him there whether he would live or die."
Mr Coetzee's daughter, Rachel, said the incident had left the family "devastated" but said her father was gradually getting better.
She said the family wanted to use the crash to spread a road safety message.
"The one thing we want to take away from this is to promote safety amongst all road users.
"The doctor said if he hadn't been wearing a helmet he wouldn't have survived."