Christopher Atkins jailed for sex attack on young girl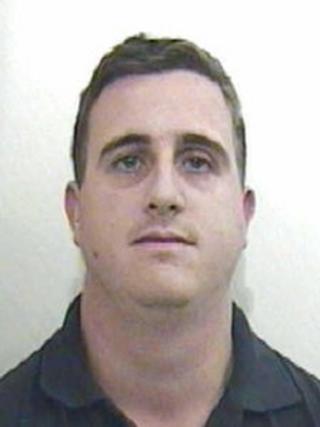 A man described as a "predatory and sadistic paedophile" has been jailed for a life-threatening sexual assault on a young girl.
Christopher Atkins left the girl with severe internal injuries, 18 external bruises and scalding.
Judge Michael Stokes QC said the 31-year-old's offending was "almost beyond comprehension".
Atkins, of Westway, Cotgrave, Nottinghamshire, was given sentences totalling 17-and-a-half years.
He was found guilty of sexual assault and a separate child cruelty charge.
A 25-year-old woman, who cannot be named for legal reasons, pleaded guilty to a child cruelty charge and was given a 12-month sentence, suspended for a year.
Speaking outside court, the girl's natural father - who also cannot be identified - said he tried to warn the authorities.
"Social services have been disgusting all the way through this," he said.
"They haven't listened to a word I've said all the way through - I asked them to check him and they didn't bother."
'Cruelty and perversion'
A serious case review has been commissioned which will examine the involvement of social services and other agencies in the case. The girl was under the age of five when the offences happened.
Judge Stokes told Atkins: "The child in this case was a vulnerable, innocent little girl when you committed an offence of unspeakable cruelty and perversion, an offence which all right-minded people would regard as repellent.
"You are in my judgment a predatory and sadistic paedophile and unless whatever issues you have are addressed you will present a serious risk of causing harm to other children."
His abuse of the girl, which happened in 2011, was discovered when she was taken to hospital.
However, Judge Stokes said he had "no doubt" that Atkins would have been "content for the grievously injured child to go without medical attention of any kind".
"How any human being could do this to a little girl is almost beyond comprehension, but the fact is you did," he added.
The serious case review has been commissioned by Nottinghamshire Safeguarding Children Board, which oversees how various organisations protect children.
The board's chairman, Chris Few, said the review would "examine all aspects of the various agencies involvement with this case and identify if any changes need to be made to ensure that all children in Nottinghamshire are kept as safe as they can be".
It is expected to be completed in February.