Hemlock Stone, Nottinghamshire: Scan aims to unlock secrets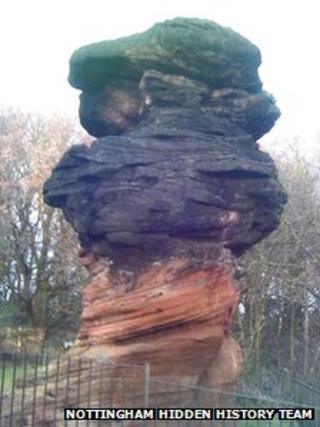 An ancient stone in Nottinghamshire has been scanned with a 3D laser in a bid to determine more about its origin.
Hemlock Stone in Bramcote Hills Park is an ancient sandstone pillar, but experts are not certain if it is man-made or a natural feature.
The scan by University of Nottingham experts will be used to create a digital model of the stone for research and educational purposes.
The scan took several hours to complete.
Druid Stone
Scaffolding was erected around the stone in Stapleford to allow images to be taken from different angles, local historian Frank Earp said.
"We will be able to take the image and send it anywhere in the world," Mr Earp said.
"When we have a 3D model and look at it in the lab - it will be much easier to analyse - and we should be able to detect if there were tool markings on it."
Mr Earp believes the stone, which sits on a prehistoric track, is linked to two other significant stones in Nottinghamshire - the Druid Stone at Blidworth and Bob's Rock at Stapleford.
He said early antiquarians believed the Hemlock Stone was the result of quarrying, but he said it was more likely that the unusual rock formation was a sacred prehistoric site.
"The scan will give us a clue if it was man-made or not - and we should also be able to eventually prove if it was a Neolithic monument - in which case, if it is, it is of national significance."
The scan will be accompanied by a full archaeological and geological appraisal of the site, landscape survey and the "largest data gathering exercise ever conducted on the stone's history and folklore", he said.
The Three Stones Project is being organised by Mr Earp with help from experts from the University of Nottingham's Geospatial Institute and other volunteers.