Nottingham Emett Clock: Protest over Victoria Centre 'move'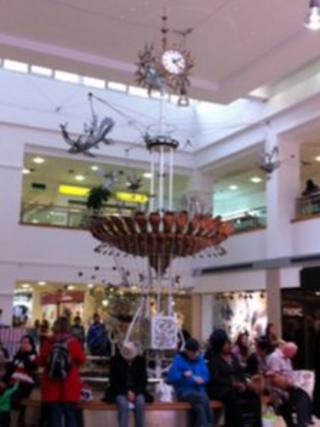 A protest is being held to oppose the potential move of a famous clock in a Nottingham shopping centre.
The Emett Clock has stood in the Victoria Centre since 1973 and has become a popular meeting place.
Shoppers stop to watch the water-powered clock, which opens up and moves every 15 minutes.
Intu, which owns the centre said it was looking at other locations in the city for the clock but insisted no decision had yet been made on its future.
A spokesperson for the firm said it was looking at several options to improve Central Square, where the clock is currently located, as part of plans to refurbish the centre.
"We think there is an opportunity to create a fantastic space to host bigger and better events and to make the shopping centre more attractive for our customers.
"However, we recognise the Emett Clock's history and association with Nottingham, so we are investigating Nottingham-based locations where it can remain as accessible as it is now."
Protest organiser Steve Oliver, from Basford, said the demonstration would be peaceful.
"People who are concerned are going to come down and bring a couple of signs and sit by the clock.
"Why can't we just leave it alone and leave the clock where it is and has been for 40 years?"
The plans are part of a £390m Intu scheme to extend and renovate both the Victoria and Broadmarsh centres.