Bilsthorpe villagers produce 'danger road junction' film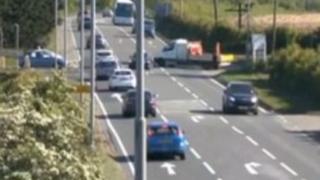 Residents of a Nottinghamshire village have made a film of traffic at a junction where several people have died.
People in Bilsthorpe said they felt "petrified" about a stretch of the A614, at the Mickledale Lane junction.
They said they hope the film will highlight the dangers of the road.
Nottinghamshire County Council said they were considering installing traffic lights at the junction, where it is carrying out a feasibility study.
Six people died in a crash on the road in June 2011.
'Money versus death'
The film shows traffic having problems joining the road, as well as cyclists and pedestrians struggling to cross it.
The footage shows several vehicles taking evasive action to avoid collisions.
Tony Todd, a retired Nottinghamshire Police traffic officer, is one of those who appears on the film.
"In my opinion, and the opinion of many others it is simply a case of money versus death and serious injury," he said.
"We need traffic lights at that junction."
John Peck, Labour county councillor for Bilsthorpe, said the danger of the junction was the single biggest issue voters had raised with him.
"Many people have said to me they are petrified trying to enter the A614," he said.
"I would describe it as a blackspot. The fact is, Bilsthorpe has no safe exit on to the road.
"The film was made as part of an ongoing campaign to persuade the highways department to put in a set of traffic lights."
Mark Spencer, Conservative MP for Sherwood, said he had been campaigning about the junction for three years.
"People are putting their lives in danger coming out of this junction every morning and every evening," he said.
"We need to do something about it before anybody else is injured or killed. Let's have some traffic lights and sort this out once and for all."
The county council said its feasibility study should be finished, early next year.