Rufford Abbey: Ten-year redevelopment planned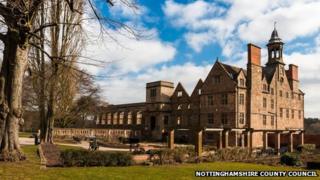 A popular Nottinghamshire country park could be improved as part of a 10-year redevelopment.
The county council has released plans to repair the 12th Century Rufford Abbey, near Ollerton, and make improvements to playgrounds and trails.
The 210-acre (85-hectare) park is the second most-visited country park in the East Midlands and attracted 460,000 visitors last year.
More detailed plans and costs will now be drawn up.
Nottinghamshire County Council said it wanted to ensure the abbey remained "a high quality visitor destination".
The work would see a redesign of two children's play areas and resurfacing of major footpaths in the woods and around the lakes.
Repairs would be made to the Rufford Mill and two Georgian ice houses on the site.
The council also wants to refurbish some cottages so they can become rental properties.
But Gareth Broome, countryside service manager, said additional funding would be required.
"Time is taking its toll on such an old range of buildings," he said. "The place is in need of some extra attention to preserve the historic remains.
"We need a coherent plan so that we can go out and bid for the money from lottery funds and other sources of funding."
He said it was the council's aim to reacquire a Green Flag Award, which promotes well-run and maintained green spaces, for the park by March 2018 after it lost the title three years ago.
In the last year, £168,000 worth of improvements have been made by the council to the footpaths, Rufford Mill car park and the bridges around the lake.