Human remains found in Forest Town back garden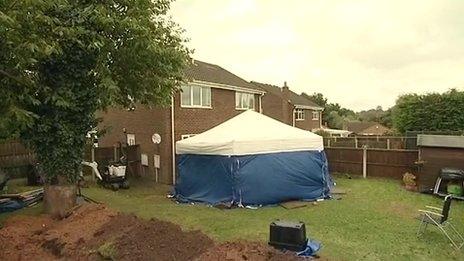 The remains of two people have been found in a back garden in Nottinghamshire, police have confirmed.
Officers said human remains were found in the garden of a property in Blenheim Close, Forest Town, on Thursday.
Police said they were led to the address after information came to light about an "incident" alleged to have taken place in the late 1990s.
A neighbour said an elderly couple had lived in the property in the 1990s but had disappeared.
The 51-year-old woman, who did not want to be named, said the couple were living at the house when she moved in 18 years ago.
She said: "They never had any visitors. I never saw anyone coming or going.
"My friend and I always used to say, 'I wonder what happened to that couple'. They just disappeared. We thought they had emigrated."
Nottinghamshire Police said it could not comment on the claim.
Insp Mark Webster said it could be "several weeks or months" before the bodies were formally identified.
He said the current owners of the house were not part of the investigation at this time and confirmed no arrests had been made.
A post-mortem examination to establish the causes of death was being carried out on Friday.
Mr Webster appealed for anyone with information on the discovery to come forward but said residents should not be fearful.
"We don't believe that there is any risk of any harm coming to the community," he added.
"People are clearly going to be concerned when an incident of this nature happens and we would like to reassure them."
The property remains cordoned off while forensic examinations are carried out.
Related Internet Links
The BBC is not responsible for the content of external sites.