Nottingham Pride charity is wound down after cash woes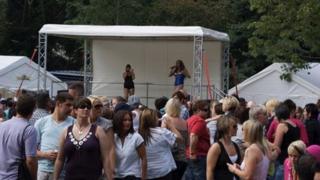 The charity that runs Nottingham's annual gay pride event has been wound down until finances can be raised to hold future events.
Volunteers from Nottinghamshire Pride voted to close the charity after it fell into almost £17,000 of debt.
Acting chairman Ben Holmes said the charity had been in financial trouble for the last three years but tried scaling down the event to save money.
Volunteers said they hoped there could still be events in the future.
'Losing sponsors'
"I have invested many years of my life into making sure the event happened and unfortunately it has come to a point where we have to look at where it is going in the future," said Mr Holmes.
"We are losing sponsors and we lost an awful lot of money from companies that are no longer going. We are not generating enough funds.
"We hope something can happen. The charity could be saved if money comes in but unfortunately that doesn't look likely."
He said they were looking at ways to pay outstanding bills to contractors and sponsors before the charity closes.
The free event celebrated its 10th anniversary this year.
Organisers said it costs £30,000 each year and asks for a £1 donation from those who attend.
Volunteer Craig Martin said only a third of the 14,000 people who attended this year donated.
He said it was a possibility future pride events would have to charge.
A meeting will take place at The Lord Roberts in Broad St, Nottingham on 31 October at 19:00 BST to discuss the charity's future.