Robin Hood: What happened to Nottingham castle?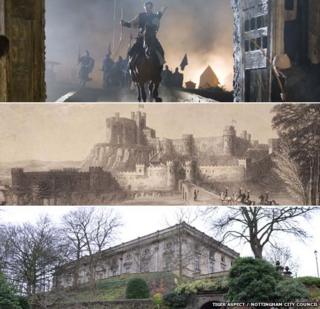 The Robin Hood legend brings millions of tourists to Nottingham every year but visitors expecting to find a medieval castle are often disappointed when faced with a grand stately home. So what happened to the original fortress?
In Hollywood's adaptation of Robin Hood Prince of Thieves the hero and his men dressed in hooded overalls and disguises sneak into the grounds of a medieval castle to disrupt an execution.
And in the BBC TV series, Robin is often seen duping castle guards to get into the grand hall or wreak havoc on the grounds.
All of these have led people to naturally assume the city has a traditional castle - when in fact it was demolished more than 350 years ago.
In fact it comes as a shock to many tourists when they realise it is no longer there.
"I was expecting it to be more medieval looking so I was a bit taken aback," says Wayne Horne, 25, from Northamptonshire.
"It was smaller than what you see in the films and I thought it would be mysterious and frightening, but it wasn't, it was quite a modern building," says another visitor, 18-year-old Veronika Khanova, from Russia.
Managing expectations and changing the castle's image is now part of a bid by the local authority to turn it into a "world class heritage attraction".
Cal Warren, from Nottingham City Council, is trying to obtain lottery funding for the project.
"Tourists come from all over the world for a medieval castle and they come here for Robin Hood, both of which we can't give them," she says.
"What we can do though is give them the experience and enjoyment of what we do have and give them the knowledge of its past."
The original castle was torn down following the English civil war in the 17th Century and was replaced with a palace for the Duke of Newcastle a few years later.
This was burnt down by rioters in the 19th Century and lay derelict for years until it was restored and reopened as a museum in the late 19th Century.
"People have a perception of what a castle should be like and some actually suggest we should build a new one, but we can't change our history," says Dr Richard Gaunt, from University of Nottingham's School of History.
"In medieval times there were no theme parks and no National Trust so it is difficult to know what might have been had it not been knocked down."
"The castle has been gone for nearly 400 years but somewhere in their minds people think it should still be there," says local historian Dr Trevor Foulds.
"Everybody imagines their own version of Nottingham castle. Maybe it is because of the films, but nowhere else does this happen.
"It's a shame the castle has gone but this is what we are left with and we just have to deal with that."