Nottinghamshire's police dogs to receive 'pensions'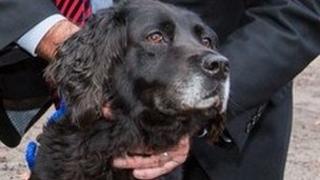 Retiring police dogs in Nottinghamshire are to be given their own "pensions" in recognition of their "hardworking service tackling crime".
The scheme, which the force says is the first of its kind in the UK, will help to ensure the animals receive any medical treatment they might require.
Police and Crime Commissioner Paddy Tipping, who approved the fund, said it would provide ongoing funds relating to medical injuries or illnesses.
It will come into effect next month.
Mr Tipping said: "Financial assistance for police dogs injured or ill arising from their work has, until now, ended on retirement.
"These dogs give willing and sterling service over the years in protecting the public. This will ensure continuing medical help once their work is done."
Most police dogs remain with their handler after retirement as they are deemed unsuitable for rehoming.
But now each Nottinghamshire police dog will receive medical costs of up to £500 a year for the first three years after leaving the force.
It comes after the work of police dogs was highlighted in a number of high-profile cases.
In May, a man who drunkenly brandished an axe and threatened to hurt a police dog was jailed.
Rossi the Belgian shepherd jumped 8ft (2.4m) and grabbed the axe from the man, then dropped it and held his arm to stop him getting away.
His handler, PC Matt Rogers, welcomed the news.
Eight-year-old Rossi, who has been at his side since he was a puppy, is expected to retire soon.
Between this financial year and 2015-16, nine dogs are expected to retire.