World War One Christmas truce football match to be recreated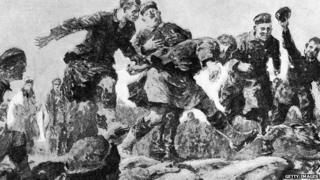 A football club is to play a "Christmas truce" match at the spot where one of the famous World War One games is thought to have taken place.
Newark Town FC has been awarded more than £8,000 to finance an under-21s match against German twin town Emmendingen at the site near Ypres.
A local historian came up with the idea after reading letters sent home by Private William Setchfield from Newark.
The soldier wrote about witnessing a match during the unofficial 1914 truce.
'Celebration of love'
Newark historian Francis Towndrow led the Heritage Lottery Fund bid on behalf of the football club.
Mr Towndrow explained that Pte Setchfield's Royal Warwickshire regiment had been fighting the 134 Saxon Regiment around Christmas time
He said the soldier wrote to his brother in Newark about a football match, although the military - who frowned upon the unofficial ceasefire - censored further information.
German records also suggest the two sides had ceased hostilities to play a football game.
Mr Towndrow said soldier Kurt Zehmisch, from the 134 Saxon Regiment, wrote in his diary: "The English brought a football from the trenches and pretty soon a lively game ensued.
"This Christmas, the celebration of love, managed to bring mortal enemies together as friends for a time."
The match against FC Emmendingen will be played near the original site in St Yvon, close to Ypres, on 24 August.
In addition, some of the money will be used to create a memorial garden at Sconce and Devon Park in Newark.