Bats delay Nottingham City Council's plan to illuminate Trent Bridge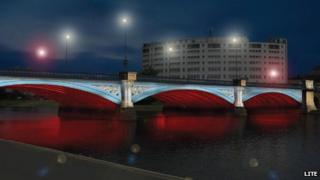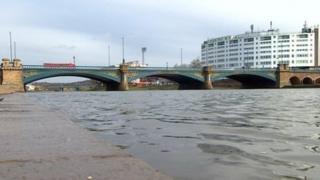 Plans to illuminate Trent Bridge in Nottinghamshire are being put on hold because bats could be using it to have their babies.
The bridge, which goes over the River Trent, is a major crossing between the city of Nottingham and the borough of Rushcliffe.
Nottingham City Council wants colour-changing LED floodlights to be placed on the underside of the arches.
But the lights could disturb Daubenton's bats using the bridge.
Deputy council leader Graham Chapman said: "We've discovered that we've got to consider bats and it may well be that there's a maternity column underneath the bridge, but we've got to wait until May at least to find out."
Daubenton's bats, like all British bats, are protected by law.
This means it is an offence to disturb their roosts, or damage, destroy or obstruct access to any place used by bats for shelter.
Nottingham City Council would have to get a licence from Natural England to do any work to the bridge which would affect bats, and would need adequate justification.
'Abandonment of roost'
Michael Walker, chairman of Nottinghamshire Bat Group, said Daubenton's bats were often called the water bat because they live near water, which they hunt and feed over.
"If the light is shining directly where their roost entrance is then that will cause probably abandonment of the roost, or stop them even establishing it in the first place," he said.
Mr Chapman said: "Our bat expert tells us that we can probably find alternative roosting points for them, and so there are ways of overcoming it, but it will create a further delay."
The city council has appealed for sponsorship from businesses and organisations to support the £150,000 project.
But the council is also having problems with this, as heritage rules mean plaques naming the sponsors cannot be put on the bridge.