Widow Angela Dowling 'murdered new fiance Alan Easton'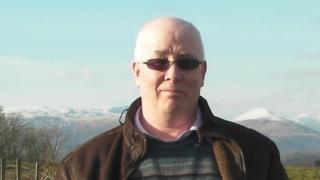 A recently widowed woman murdered her new fiance when she was meant to be taking him out for an engagement meal, a court has heard.
Angela Dowling and two men are on trial for allegedly murdering her Scottish fiance Alan Easton a month after her husband died from cancer.
Mr Easton's stabbed and beaten body was found buried on farmland in Everton, Nottinghamshire, on 2 February 2013.
Ms Dowling, Matthew Duffy and Mark Bingham all deny murder.
The court heard Ms Dowling, 48, had also been sexually involved with her lodger, 33-year-old Stephen Schofield, who has pleaded guilty to murdering Mr Easton.
Ms Dowling's husband had died on 29 December 2012 and his funeral was held on 15 January last year.
In the days after the funeral, the family went up to Scotland to visit Mr Easton, a family friend who was from Dunbartonshire.
Andrew Dowling, Ms Dowling's son, told the court that the trip had been his idea.
"I wanted my mum to go to be happy," he said.
"I always had a feeling that Alan had feelings for my mum so I pushed her to pursue that."
'Really happy'
Mr Dowling said his mother and Mr Easton became engaged, and his mother bought a £79 engagement ring with Mr Easton's money.
"She was really happy," said Mr Dowling.
Mr Dowling said he and his mother went up to Scotland again the next weekend to help Mr Easton move down to live with them.
Mr Easton gave him a large plasma screen to play computer games on, he said.
He added: "He gave it to me as a thank you, for my birthday and changing his life."
When asked to describe Mr Easton, he replied: "He was a lovely fella, a down to earth, genuine man."
Mr Easton and Ms Dowling were due to go for a meal to celebrate their engagement, joined by Schofield and Mr Duffy, on 1 February last year.
Mr Duffy, 23, of Sussex Street, Doncaster, knew the family because he was friends with another of Ms Dowling's sons, the court heard.
Mr Dowling told the court about a conversation he had shortly before they left for the meal.
Schofield had talked about scaring Mr Easton so that he would leave their home in Windmill Avenue, Conisbrough, South Yorkshire, he said.
"[He said] that they were going to scare him and get him to go back to Scotland," Mr Dowling told the court.
Ian Unsworth, prosecuting, asked Mr Dowling if Mr Duffy had said anything in response to the suggestion that they were going to scare Mr Easton.
Mr Dowling replied: "He just agreed. I asked them what was going on and was told 'You don't want to know'."
'Not coming back'
Mr Dowling said he stayed at home with Mr Bingham that evening.
Mr Bingham, 50, of Fishponds Road West, was a family friend.
Mr Dowling said his mother returned to the house with Schofield and Mr Duffy, but without her fiance.
"I got told that they had put him on a train back home," Mr Dowling told the court.
His mother told him to remove the SIM card from Mr Easton's phone, he said.
"She said 'Alan's not coming back'," said Mr Dowling.
The trial at Nottingham Crown Court continues.