Amy Black admits killing seven-month-old baby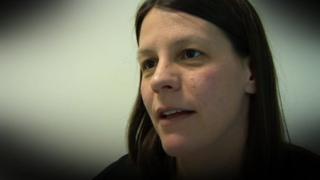 The mother of a seven-month-old girl has admitted killing her baby daughter.
Zoe Black was taken to hospital from a house on the Bestwood Park estate in Nottingham on 1 September last year but was declared dead on arrival.
Amy Elizabeth Black, 40, of Ketton Close, pleaded guilty to infanticide when her balance of mind was disturbed.
Nottingham Crown Court heard all the medical evidence pointed to the reality that Black drowned her daughter. The case was adjourned until April.
Serious case review
The court was told Black travelled to London the day before Zoe died. She went into Ealing police station and said she needed to get back to Nottingham.
Police took her to a service station on the M1 where officers from Nottinghamshire collected her.
The police contacted social services, requesting an emergency visit to Black as they were so concerned but were told a team was not available, the court heard.
On the morning of 1 September, Black was seen on CCTV walking back and forth to her garden, cradling Zoe with one arm.
It then showed her dropping Zoe over a fence onto land behind the garden.
The court heard neighbours found Black wandering around with self-inflicted knife wounds. One of them recovered Zoe's body.
The court was told Black had not fully recovered after giving birth to Zoe.
The case was adjourned until further psychiatric reports can be heard and Black was remanded back into custody.
In a statement, chair of the Nottingham City Safeguarding Trust Paul Burnett, said: "We are currently conducting a serious case review into the circumstances surrounding the tragic death of this baby.
"We are unable to say more until the conclusion of the inquest and the publication of our findings."