'Stillborn' Riley Hartin was alive inquest hears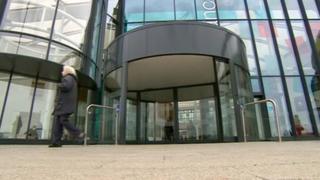 A newborn baby whose parents were told he had died was later found to still be alive, an inquest has heard.
Riley Hartin was born at King's Mill Hospital, in Sutton-in-Ashfield, in February last year.
Midwives tried for 30 minutes to resuscitate him before handing him to his parents, who subsequently heard him breathing and making noises.
Baby Riley was later transferred to Leicester Royal Infirmary, where he died two days later.
Nottingham Coroner's Court heard he had been starved of oxygen due to a rare condition called vasa praevia - where a blood vessel to the baby ruptures during labour.
His father Daniel Hartin told the court he had concerns over the way his partner, Jodie Hemmings, was treated during the birth.
However, the inquest heard the expectant mother was considered low-risk when she started labour and that all was normal until a point when the baby's heartbeat could no longer be detected.
Riley was born shortly after showing no signs of life and was apparently unresponsive to resuscitation attempts.
Consultant obstetrician Srini Vindla, of Sherwood Forest Hospitals, told the hearing it [vasa praevia] was a very difficult condition to diagnose and that a caesarean section at that stage of labour would not have saved Riley's life.
The inquest continues.