Lindhurst homes campaign 'to continue' despite judge's ruling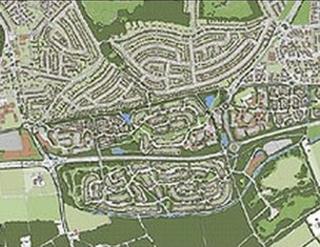 A fight against a 1,700-home development will continue despite the High Court throwing out a bid for a judicial review, campaigners say.
Mansfield District Council granted planning permission for the £250m development at Lindhurst in July 2011.
On Thursday, Mr Justice Phillips rejected the campaigners' bid, saying they had no arguable case for a review.
The county council is set to gain up to £10m from the site, which it says will go back into public services.
'Nothing changes tactics'
Campaigners, including Shlomo Dowen, maintained Mansfield District Council acted unlawfully when it granted outline planning permission for the 418-acre (169-ha) development.
He said campaigners will continue to fight the development on environmental grounds, including the loss it poses to wildlife habitats.
"There's a lot that we have achieved and I categorically reject that all this effort has come to nothing it changes nothing but our tactics," said Mr Dowen.
Nottinghamshire County Council - a major stakeholder in the Lindhurst scheme, along with two private sector partners - said the plan for land connecting Sherwood Way (A617) and Nottingham Road (A60) will provide 1,700 jobs.
It will include 1m sq ft of employment land, a park, shops, a school and a cemetery.
Once complete, the authority is likely to receive up to £10m from its net share in the scheme, it said.
Work is set to begin next year.