Jeremy Hunt urged to plug Kings Mill funding gap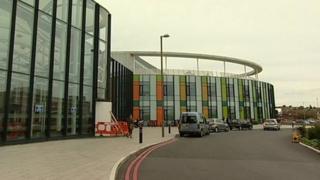 Health Secretary Jeremy Hunt has been asked to plug a funding gap at the trust which runs Kings Mill and Newark hospitals, in Nottinghamshire.
Ashfield MP Gloria De Piero has written to Mr Hunt urging him to take action over an expected shortfall, estimated to be between £12m and £20m per year.
She said a "badly negotiated" private finance initiative (PFI) was to blame.
PFI schemes involve the private sector financing, building and maintaining public facilities for an annual fee.
The cost of the agreement for the Sherwood Forest Hospitals Trust is about £2bn over the life of the PFI agreement.
The move followed a meeting between the Labour MP and trust bosses who highlighted the shortfall as one of the "biggest causes for concern".
The MP said: "I'm urging Jeremy Hunt to agree a deal so that everyone at the hospital can focus on patient care instead of worrying about the financial future of the trust."
Conservative MP for Sherwood Mark Spencer criticised Labour for the "disastrous situation" faced by the trust, because the deal was negotiated when the party was in government.
But he said: "We've now got to work with the Department of Health and encourage them to help get Kings Mill out of the mess they are in.
"You can't buy your way out of it - we are signed up to this mortgage for the next 20-odd years and it's going to be pretty hard work and every penny that goes to repaying it is money we can't spend on doctors, nurses and the things that really matter."
The Department of Health confirmed it had received the letter but is yet to issue a response.