Rolls-Royce housing plans approved in Hucknall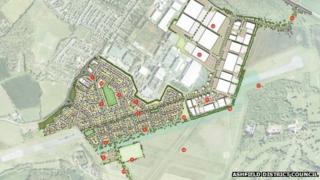 Plans to build 900 homes and a business park on land owned by Rolls-Royce in Hucknall have been approved.
The company submitted a planning application to Ashfield District Council for 298 acres (121 hectares) of land to be developed.
A local campaign group opposed the plans and said nearby roads would not cope with an increase in traffic.
Ashfield MP Mark Spencer shared the concerns but said the town needed the jobs the development would bring.
'Slow the traffic'
Rolls-Royce and Muse Developments claimed that the proposed business park near to the new homes would bring about 2,000 jobs to the area.
Mr Spencer said: "It's very close to Rolls Royce and will attract high quality engineering jobs and businesses... they're not just jobs, they're careers for people and that's what we need in that part of the world."
However, he added that the district council had to find some way of ensuring the jobs did come to the area.
Sally Wyatt, who chairs the Reach Out Residents Group for West Hucknall, said the town's infrastructure would not cope.
She said: "Watnall Road cannot sustain any more houses... they are putting in two roundabouts but this will only serve to slow the traffic."
About 69 acres (27.8 hectares) of the land would be used for the business park and 77 acres (31.2 hectares) for residential development.
A further 143 acres (58 hectares) of greenbelt land the firm owns would be improved for conservation.
A new access road to the Hucknall by-pass would also be built on the land.
Rolls-Royce ended engine testing at its Hucknall plant in 2008 but the company still has a factory in Watnall Road.
Following the meeting, leader of the council, Councillor Chris Baron, said the scheme would bring significant investment to the economy and the future of Hucknall.
"We cannot even consider standstill for our town - it is just not an option," he said.
"We have to think of future generations - they need to have education, jobs and decent places to bring up their families."