Alan Easton murder: Widow convicted of killing fiance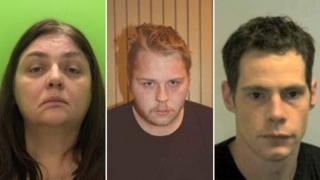 A widow and her son's friend have been found guilty of killing her new fiance after realising he had "blown" £40,000 he inherited from his father.
Angela Dowling, 48, and Matthew Duffy, 23, from South Yorkshire, murdered Alan Easton weeks after Dowling's husband died and the engagement was announced.
Mr Easton was beaten, stabbed and buried on farmland in Everton, Nottinghamshire, on 2 February 2013.
Dowling's lodger and long-term lover Stephen Schofield, 33, admitted murder.
They will all be sentenced on 2 May.
A fourth man, Mark Bingham, 50, from Sheffield, was found not guilty.
False claims about daughter
Schofield, who had an affair with Dowling over five years, had been a lodger at the Dowling family home in Windmill Avenue in Conisborough, South Yorkshire.
During the trial at Nottingham Crown Court the jury heard Dowling had attended her husband's funeral on 15 January, following his death from cancer.
A week later she announced her engagement to family friend Mr Easton, from Dunbartonshire, Scotland, and he moved in.
Ian Unsworth, prosecuting, said Mr Easton had inherited £40,000 from his father but had "blown it" quickly.
He said the relationship with Dowling turned sour days later when she realised he no longer had the money.
She then falsely alleged to Schofield and Duffy, her son's friend, that her fiance had acted inappropriately towards her teenage daughter and asked for their help to plan his death.
On the night of the attack, 1 February, the group claimed they were taking Mr Easton out for a meal to celebrate the engagement.
'Ugly twist'
Dowling drove them to a country lane in Nottinghamshire and waited in the car as Duffy and Schofield beat Mr Easton, stabbed him nine times, cut his throat and buried him in a shallow grave.
The next day Dowling claimed Mr Easton had returned to Scotland following an argument and told her family he "wouldn't be coming back".
She then traded in her £70 engagement ring and some of Mr Easton's possessions for £100.
During the defence, lawyers said Dowling had appeared "really happy" about her new engagement and could have had no motive to kill him.
They said Duffy, of Sussex Street, Doncaster, also had no motive as he had only met Mr Easton days before his death.
The jury of eight men and four women returned a majority guilty verdict after three days of deliberation.
Det Insp Leigh Sanders, from Nottinghamshire Police, said Mr Easton had moved to South Yorkshire to start a new chapter in his life when it took "an ugly twist" and ended in an "extremely violent murder".
He added: "Under the instruction of Dowling, who had significantly tarnished Mr Easton's reputation, Schofield acted as a jealous lover and along with Duffy subjected him to a brutal attack.
"Their actions were reprehensible, whatever their motives."