Ivy Arch: Neglect contributed to pensioner's death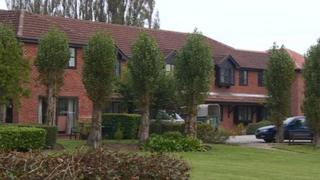 Neglect contributed to the death of an elderly woman given the wrong food and left unsupervised at a care home, a coroner has ruled.
Ivy Arch, 87, was given leftover sandwiches and biscuits, despite being unable to eat solid food.
She was found dead at Spring Lane Nursing Home, Lambley, Nottinghamshire, which has since been closed by the Care Quality Commission (CQC).
Mrs Arch's family said they were now considering seeking compensation.
The inquest, at Nottingham Council House, heard that Mrs Arch, known as Betty, had dementia and could only eat mashed or liquidised food.
'Run ragged'
But on August 10, 2012, she was left unsupervised, and ate two sandwiches and biscuits.
That night her breathing became worse and a pathology report showed undigested bread and vegetables had lodged in her windpipe.
Staff from the home told the hearing of chaotic mealtimes, being "run ragged" and not being told what to offer residents with special dietary requirements.
Assistant coroner Stephanie Haskey said that while Mrs Arch died of natural causes, there had been a "gross failure to provide adequate nourishment or basic care".
She added: "It is clear from the evidence... that no-one had given any thought at all to the provision of an alternative supper for residents such as Betty on modified diets.
"Supper was sandwiches and biscuits; 'take it or leave it', in the words of one witness."
'No apology'
She said home owner Shirley Poole "controlled the purse strings" and ignored calls for more staff.
"I drew the conclusion she had little or no knowledge or understanding of her duties and responsibilities to vulnerable elderly people who were effectively in her care and reliant upon her," said the coroner.
Family solicitor Paul Balen said a prosecution should follow because residents' lives had been put in danger.
On the issue of compensation, he said: "No amount of money will bring Betty back, but at least it will be a signal that there is an acceptance of responsibility because there has been no apology or acknowledgement from the owners that they had done anything wrong."
A police investigation was launched after a further 30 allegations of sexual and physical abuse at the nursing home.
The home was closed down shortly after by the CQC.