Nottinghamshire Police detective goes back to work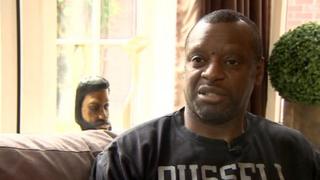 A detective sergeant wrongly accused of rape says he is "delighted" to be back working with the force.
Nottinghamshire Police sacked Trevor Gray in May 2012 after he was jailed for attacking a woman.
Mr Gray, who had 25 years experience, was acquitted following a retrial after his wife traced a vital witness.
A Police Appeals Tribunal ruled on Thursday he can return to work. Nottinghamshire Police said they would meet Mr Gray to discuss his future.
In a statement following his reinstatement, Mr Gray, who served one year of his eight-year sentence, said: "I'm delighted that my appeal against the dismissal has been upheld.
"But I'm disappointed this matter had to be determined by a tribunal and Nottinghamshire Police had to be ordered to reinstate me despite both the Court of Appeal quashing my conviction and my subsequent acquittal."
Phill Matthews, from the Nottinghamshire Police Federation, said: "We asked the force to reinstate him and they didn't, so the only option was to go through an appeals process."