Fracking protestor chained to drill rig at Nottinghamshire site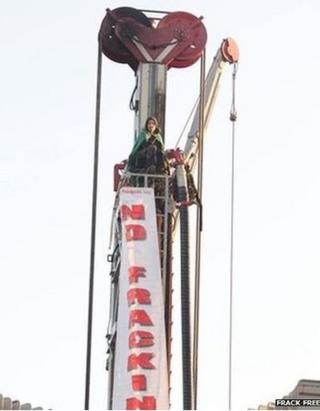 An anti-fracking protestor has chained himself to a 15m drilling rig in Nottinghamshire.
Dressed as Robin Hood, the protestor has been named only as Will.
About 15 people from the group Frack Free began camping out at the site in Daneshill, near Retford at 05:30 BST on Tuesday.
Owners Dart Energy said they had been exploring the site for coal-bed methane and had suspended work while the protestor was on the drill.
Will draped a large banner with the word 'NO FRACKING' on the side of the rig.
'Breached security fence'
Paul Kennedy from Frack Free South Yorkshire said: "Will has locked on to the rig following grave concerns about the impact of gas extraction on the environment and local communities.
"His action comes days after the International Panel on Climate Change report called for a quadrupling of the use of renewable energy sources, and massive reductions in fossil fuel use."
Peter Reilly, a spokesman for Dart Energy, said the protestor had breached a security fence while guards dealt with a large crowd that had gathered at the gates.
He added: "Drilling operations stopped this morning for his [the protestor's] safety and police are in attendance."
Mr Reilly said there had not been any fracking for gas at the site and there were no plans for it.
He said the firm would concrete over the area and leave once methane tests had been completed.