Alan Easton murder: Three killers given life terms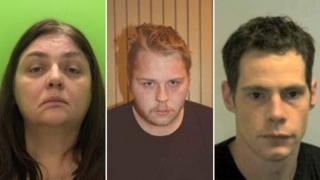 A woman, her former lover and his friend have been jailed for life for murdering her fiance, who was stabbed repeatedly and buried alive.
Angela Dowling, 48, Matthew Duffy, 23, and Stephen Schofield, 33, all of South Yorkshire, attacked Alan Easton in Everton, Nottinghamshire last year.
Dowling ordered the killing after finding out Mr Easton, 50, had "blown" a £40,000 inheritance, a trial heard.
Duffy and Dowling must serve at least 26 years and Schofield 22 years.
Nottinghamshire Police said a post-mortem examination revealed Mr Easton had been beaten and stabbed about 30 times but was still breathing when he was put in a shallow grave.
Mr Easton, of Alexandria, Dunbartonshire, was found buried off Middle Cross Lane on 2 February 2013.
Schofield had previously admitted the murder but Dowling and Duffy were found guilty at a trial at Nottingham Crown Court.
The jury heard that Dowling's relationship with Mr Easton started in December 2012 and he moved into her home in Conisbrough, South Yorkshire.
But the relationship turned sour when she realised he no longer had his inheritance.
She falsely accused Mr Easton of acting inappropriately towards her teenage daughter and asked her former lover, Schofield, of Doncaster, and his friend, Duffy, of Conisbrough, for help to plan his death.
On the night of the attack, 1 February 2013, the group claimed they were taking Mr Easton out for a meal to celebrate his and Dowling's recent engagement.
She drove them to a country lane and waited in the car as Duffy and Schofield beat and stabbed him, cut his throat and buried him.
CCTV released by police shows the group in a supermarket buying alcohol and plastic gloves in preparation for their crime.