Nottingham couple fight for stillbirth recovery room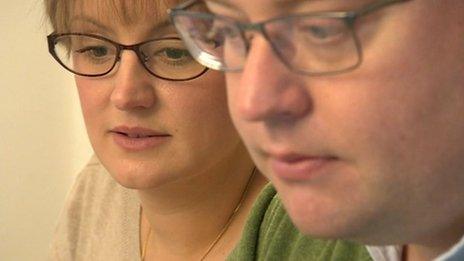 A couple are campaigning for a special room at a Nottingham hospital for women to recover in after having a stillborn baby.
Michelle and Richard Daniels were left in a delivery room after their daughter Emily was stillborn at the Queen's Medical Centre in December.
They said there should be a bereavement suite that "minimises the exposure of healthy babies and happy families".
The hospital said it would discuss ideas to improve its service.
Emily, who was full-term, died after her heart stopped during labour.
Mrs Daniels said the delivery room she placed in to recover had an empty cot and information about breastfeeding and she could hear healthy babies crying.
The couple hope money raised from their campaign Forever Stars could help set up a soundproof suite that was less clinical, had information about what to do next and was away from "reality".
"The worst thing for me was hearing a father making those calls telling his family how he just had a baby daughter, and knowing that Richard had to ring round everybody telling them what had happened," said Mrs Daniels.
Mr Daniels said: "The contrast was amazing because you're in a depth of despair in a room and you come out and there's pictures of newborn babies and fathers with empty car seats coming to pick their babies up.
"Parents need to have space where they can deal with what's happened and move together as a family."
Alison Atkinson, head of midwifery at Nottingham University Hospitals, said the couple's ideas would be discussed at a meeting.
Sands, the stillbirth and neonatal death charity, said a bereavement suite "away from the sound of crying babies" could make "the most devastating time a little more bearable".
Related Internet Links
The BBC is not responsible for the content of external sites.