Hospital and ambulance errors led to man's stroke treatment delay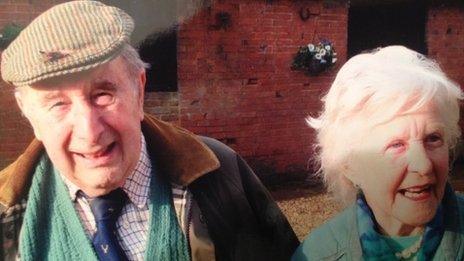 A "catalogue of errors" led to a Nottinghamshire stroke patient not being treated for almost three hours.
An internal inquiry has now confirmed an ambulance could have been sent an hour earlier and hospital staff should not have agreed to accept him.
Organisations say failings were "systematic" and steps have been taken.
Mr Mallalieu from Caunton, Nottinghamshire suffered a stroke on Friday 6 December.
East Midlands Ambulance Service (EMAS) has now apologised for the "unacceptable delay" and said no individual was to blame as problems were "operational".
Director of operations Richard Henderson said a dispatcher had been acting up in a more senior role without appropriate training on a day that was "unusually busy".
"It is clear that our service was not to the high standard that it should have been on the day, and I am very sorry about this," added Mr Henderson.
"There was a series of issues with the dispatch team operating that day.
"We have undertaken some intensive training, changed processes in the control centre and are confident we have rectified these issues."
Sherwood Forest Hospitals Trust, which runs King's Mill Hospital near Mansfield, said staff should have instructed paramedics to take Mr Mallalieu straight to Nottingham's City Hospital.
Chief executive Paul O'Connor said there had been a "grey area" about the cut-off point for accepting stroke patients into the unit and problems communicating with paramedics.
He added: "It is clear that Mr Mallalieu was failed by the NHS.
"We are always seeking to improve our services so that our patients experience the very best care and we have now installed a direct telephone line to the stroke unit.
"Ambulance crews speaking directly to our stroke team for all suspected strokes will improve the speed of communication around accepting or diverting patients."
Following the release of the report, Mr Mallalieu's daughter Cathryn Mallalieu-Smith told the BBC she felt as if her father "was treated like cattle".
She said the apologies were still "unacceptable" and the service from both organisations "should have been better".
An inquest into Mr Mallalieu's death opens in October.
Related Internet Links
The BBC is not responsible for the content of external sites.