Nottinghamshire Police to close stations and front counters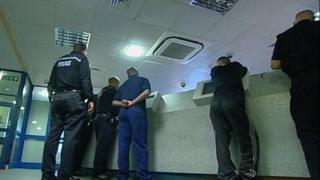 Nottinghamshire Police is proposing to close two stations and seven front counters from next year.
The county's Police and Crime Commissioner Paddy Tipping announced the closures as part of the force's efforts to save £12.7m over 12 months.
He said more people were choosing to call or email police, making stations and front desks less important.
Labour MP Graham Allen said people were being "denied face-to-face access by government cuts".
Mr Tipping said closing stations in the Sneinton and Meadows areas of Nottingham would save the force about £55,000 a year and the sale of the buildings would bring in about £525,000.
"If we don't do this, we will have to make savings elsewhere in the budget," he said.
"It is about priorities."
'Greater choice'
Front counters at Eastwood and the Meadows have already closed and the Harworth station shut in January.
Eastwood police station is already trialling a scheme for visitors to speak to staff at another station through a web cam.
Mr Tipping said the force was the first in the country to do this and the scheme could be rolled out to other stations if successful.
He added: "Many people now prefer to contact police via telephone or email.
"It would be nice to keep the stations and front counters open but 30 people a month go to these front desks, which is less than one a day.
"If people can think of a better idea, then I'm happy to discuss it."
Mr Allen, MP for Nottingham North, said: "Government cuts are hitting the service our police provide in some of our most needy areas.
"After years of campaigning for public access to police stations, the clock is being put back and local people will be denied face-to-face access by government cuts in areas that need it most."
A consultation has begun with affected staff.
If the scheme is approved, they will relocate to nearby stations.