New dementia centre hopes to improve care for people with condition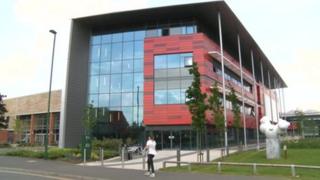 A new centre of excellence in Nottingham has opened to help improve care for people with dementia.
The centre at the University of Nottingham's Institute of Mental Health will even see research teams working on possible cures for the condition.
Prof Tom Dening said the centre was "wide ranging and eclectic" and will help improve quality of life.
"We will work on trials of new drugs which may in the future contribute to a cure for dementia," he said.
"But for people with dementia at the moment what matters is how they spend their time, what support they and their families get and what services they get."
'Learning curve'
Former radio DJ Steve Voce, was diagnosed eight years ago when he was aged 51.
His wife Nikola said since then his condition has deteriorated and there has been no treatment available for him.
"When Steve was diagnosed, every day was a learning curve," she said. "I hadn't really known much about dementia so I started doing a bit of research.
"From very early on I knew there was no medication available for Steve so I didn't fight for that.
"We feel a cure isn't around the corner just yet but these things take time to look into and research is so important at this stage."
The Institute of Mental Health is a partnership between Nottinghamshire Healthcare NHS Trust and The University of Nottingham and already houses a number of centres for health, criminal justice, ADHD, social futures, and education.