Pied wagtail nest holds up £3m Rainworth sewage works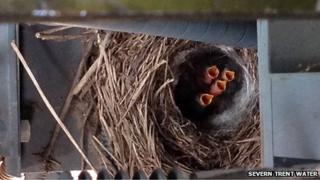 A crane that was being used in a £3m upgrade to a sewage works has been put out of action after the discovery of a pied wagtail nest.
Severn Trent Water said the roost was first spotted in the machinery during work at the Rainworth plant near Mansfield, in April.
A replacement crane had to be brought in because nests with breeding birds are protected under law.
Five chicks have now hatched and are being monitored by staff at the site.
According to the RSPB, there are 470,000 breeding pairs of pied wagtails and are found all over the UK.
However, despite their high numbers all birds are protected under the Countryside and Wildlife Act.
'Tucked away'
Andy Wilson, project manager at the Severn Trent Water sewage plant, said it was right to stop the work when the birds were found.
"It's a safe environment for the birds, tucked away underneath the crane," he said.
"With it being a sewage works, there's lots of flies so there's a ready source of food available to them."
Work was halted for several days, while the new crane was brought in.
The upgrades at Rainworth were needed to meet recent legislation relating to river water quality standards.
The project, which began in February, is due for completion by the end of the year.