Nottingham's St Edmund Campion school row continues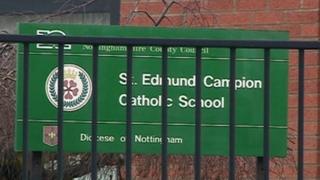 A Nottinghamshire school which went from outstanding to inadequate is facing renewed criticism after its trust met parents.
Earlier this year, the head teacher and board of governors of St Edmund Campion Primary School in West Bridgford were removed.
Parents complained about a lack of information and many left a meeting with the trust on Wednesday unhappy.
South Nottingham Catholic Academy trust said some matters were confidential.
The school had been one of the top performing primary schools in the country and last summer's Sats exams, the 405-pupil school had a 100% attainment in reading, writing and maths.
'Wall of silence'
Head teacher Dorothy Longley left in January and governors were removed weeks later.
An Ofsted inspection in February, which was published last month, rated it as "inadequate, with serious weaknesses", especially in leadership and management.
The Education Funding Agency, which oversees public funding to academies, has also confirmed it is conducting a review of the school.
Since problems emerged, parents had often complained they were met with a "wall of silence".
A first meeting by the trust with parents was held on Wednesday night but left some unimpressed.
A BBC reporter at the scene said some parents felt the situation was "as clear as mud".
School community
Gail Neill, Director of Education for the Catholic Diocesan education service for Nottingham, which looks after all Catholic schools across the county, insisted they has to respect confidentiality.
"There are two separate issues here which people are becoming very confused about," she said.
"One is that the head teacher did go absent from the school in January - that is a matter which is confidential and we can't discuss.
"The other is the outcome of the Ofsted inspection.
"They are two separate things and I know it is difficult for people to separate them because it is about the same school community."
Ms Neill said she understood the frustration of parents but the trust had "communicated as best we can".