Sherwood E-Act Academy in Gedling set for closure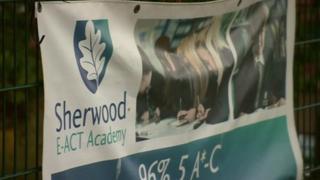 A secondary school in Nottinghamshire that government inspectors said "required improvement" in all areas is set to close from September.
The Sherwood E-Act Academy, in Gedling, will close for year 7, 8 and 9 students, while GCSE pupils will stay on until their exams finish.
In February, the school had to find a new sponsor after E-Act pulled out.
E-Act took over the former Gedling School in 2011 after it was threatened with closure.
In January, an Ofsted report found that the school required improvement in all areas.
A month later, E-Act, one of England's biggest chains of academies, lost control of 10 of its schools, including Trent Valley Academy in Gainsborough, Lincolnshire.
Ofsted inspectors raised serious concerns about the performance of some of the schools they ran.
Sherwood Academy pupils will be offered a place at The Carlton Academy from September while GCSE students will come under the supervision of the Redhill Academy in Arnold.