Mansfield wheelie bin cleaner bets £2 for £1.3m win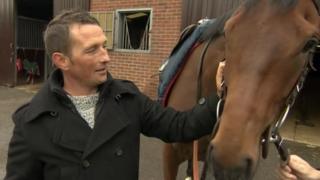 A wheelie bin cleaner from Nottinghamshire has become one of Britain's biggest betting-shop winners.
Craig Brazier, 39, from Mansfield, won more than £1.3m on a bet after he staked £2 and predicted six horses to win selected races in the UK.
He has vowed to carry on cleaning bins, but hopes to buy a five-bedroom home and take his partner Tracy and children on a Disney holiday in Florida.
Mr Brazier was one of eight winners to get a share of more than £10m.
'Could not breathe'
The Scoop6 is a national competition in which people try to predict the winners of six races. If no-one wins, the pot rolls over to the next week.
Mr Brazier had his fortune riding on Chatez at Haydock on Saturday.
The father of two said he placed the bet because he had £2 left in his pocket after buying fish bait.
"It's the best two quid I have ever spent," Mr Brazier said.
"Tracy was dozing off on the sofa and even though I was into the last leg with five winners already, she said, 'you're not lucky enough to win that'... I woke her up watching the last race screaming, 'he's won it'.
"I was jumping round the living room and dropped to my knees in shock when the horse won.
"I could not breathe when I realised I won the money... I just cannot believe how big this is."
Mr Brazier said his winnings of £1,342,599 would go towards a new house and a family holiday but he would not be giving up his job.
And Mr Brazier could be in for more good news at the weekend when a bonus race could win him another £5m.