War bomb mistaken for washing machine part in Nottingham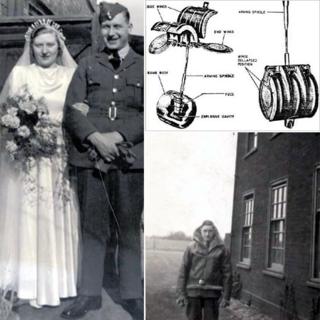 A World War Two bomb discovered in a Nottingham house had been mistaken for a washing machine spare part.
Bill Wood, who died in 1995 and defused bombs for the RAF during the conflict, kept the German butterfly bomb as a memento.
His daughter Anne Shepherd said she thought it was a condenser from a washing machine.
She said she was told to stay away from the house until the explosive was verified as being safe.
Mrs Shepherd called the police on Friday evening after the explosive was found in the garage of her mother and father's former home in Gamston.
'Swiss roll'
She said: "I was a bit frightened, I thought about all the times I'd been to garage... it could have gone off at anytime."
However, experts said the item, known as a butterfly bomb because it gave off the appearance of the winged insect, had been detonated and was safe.
They also pointed out that string had been tied around it to make it look like it had not been deployed.
Mrs Shepherd said her father always joked about there being a bomb in the house but she never believed him.
Granddaughter Alexis Shepherd said: "It looked like half a Swiss roll, it was quite heavy... I picked it up and it still had this little rod, the detonator, and I thought that must be it then!"