Attenborough Nature Reserve bridge damaged by 'would-be thieves'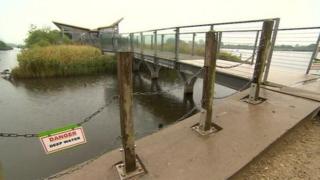 An axe was used to break a bridge at nature reserve, causing hundreds of pounds worth of damage.
It caused oil from the hydraulic ram to spill into the water at Attenborough Nature Reserve in Nottinghamshire.
Assistant manager Tim Sexton said it was fortunate the oil was biodegradable, so it could not harm the ducks and other wildlife.
He believes thieves were trying to access Attenborough Nature Centre so they could break in.
The damage was discovered when staff went to open up on Saturday morning.
Mr Sexton said: "They managed to sever the hoses and it led to hydraulic oil spilling out into the SSSI [Site of Special Scientific Interest] nature reserve, and potentially harming some of the ducks here.
"Fortunately, when we had the drawbridge installed, we made it very clear that we wanted biodegradable oil to be used for the hydraulic ram."
The bridge has been temporarily repaired, but Mr Sexton said permanent repairs would cost "hundreds, if not thousands of pounds".
He said this money could have been spent on protecting wildlife.