Bank Holiday exemption fight over Nottinghamshire road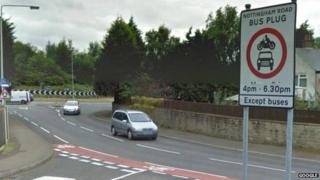 Residents living near a Nottinghamshire road which has access restrictions during evening rush hours are fighting to have public holidays excluded.
Over four Bank Holidays 300 motorists were fined for breaking the rules on the section of Nottingham Road leading up to the A610 Nuthall roundabout.
Villagers have accused the council of enforcing its new camera to generate revenue during quieter traffic days.
Nottinghamshire County Council said using it was a "major safety risk".
'Holiday fines absurd'
The restricted section, which extends to about the length of six cars on an approach to the roundabout, was introduced in 2003 to help alleviate congestion between 16:00 and 18:30 Monday to Friday.
Only buses, cyclists and vehicles carrying passengers of eight and more are allowed to use the road during these times.
In April, the authority assumed responsibility for traffic enforcement from Nottinghamshire Police, for the section and installed a camera.
Motorists have been caught on camera and fined up to £60 for driving through the restricted section on Friday 18 and Monday 21 April and Monday 5 and 26 May, generating £9,000 for the authority.
Resident Steve Strickland said 100 motorists of the 300 fined lived locally and the signs do not mention Bank Holidays.
"I stopped 25 people going through, almost all of whom had no idea that the order applied on Bank Holidays," he said.
"Warning notices were issued before the monitoring started, but they were only sent to people who broke the rules and not to everyone who lives here."
Phillip Owen, Conservative councillor for Nuthall, who supports the campaign, said: "The absurdity is that when Christmas Day falls during the week drivers will be penalised even though there are no buses running."
The Labour-led Nottinghamshire County Council said breaking the restriction was "not only holding up buses but is a major safety risk".
Kevin Greaves, chair of the authority's traffic and highway committee, said the fines were justified and residents were informed.
"We don't want to be holding buses up on a Bank Holiday as there are buses using the lane every 15 minutes," he said.
"Bank Holidays are getting busier and busier... and a lot of people work on those days."