Al-Madinah trust chairman Barry Day knighted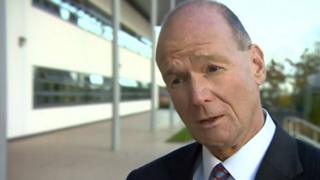 An expert who was brought in to try and save Al-Madinah school has been knighted in the Birthday Honours list.
Barry Day has been rewarded for his services to education in his role as chief executive of the Nottingham-based Greenwood Dale Foundation Trust.
He was made chairman of the failing Muslim-ethos free school, in Derby.
Other Nottinghamshire people honoured include Prof David Greenaway, vice chancellor of Nottingham University and cricketer Jenny Gunn.
Mr Day, who is already an OBE, was a head teacher who "focussed on working in challenging inner city areas" before he led the Greenwood Dale Foundation Trust.
He was asked to step in at Al-Madinah which was said to be in chaos but it was too late and the government stopped secondary education at the school.
"There are many schools that are struggling to reach the standards that their pupils deserve," he said.
"In our way we've been able to help a large number of schools and we will carry on doing that.
"Our focus is going to remain helping those schools to move forward who can't do it on their own."
He added that he was delighted to be knighted and said he would share the honour with his team.
Others to make the Queen's Birthday Honours list in the county include Ms Gunn, vice-captain of the England women's cricket team who was made an OBE.
Prof Greenaway has been knighted for his services to education.
Meanwhile, Sandra Lawton a nurse consultant in dermatology at Queen's Medical Centre in Nottingham, was appointed OBE and Dr Glenn Crocker, chief executive of BioCity was made an MBE for services to the biotechnology industry.