Injured Newark pensioner 'shocked' by £50 parking fine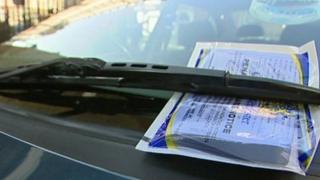 An 84-year-old woman has been given a parking ticket despite leaving a note on her car explaining she had been taken to hospital.
Beryl Feargrieve, who was "shocked and distressed" by the fine, had broken her thumb and nose in a fall.
She asked a local shop worker to leave a note on her car, but she was still given a £50 fine.
Newark and Sherwood District Council in Nottinghamshire said traffic wardens were obliged to ticket all offenders.
'Distressing day'
A council statement said it would always consider an appeal "in cases of genuine distress".
"Some people abuse the ticket system by leaving notes with various excuses," the statement said.
"Where there are genuine cases of distress, the council will consider each on its merits and allow an appeal."
The Newark pensioner said she fell in a car park on her way back from shopping.
"I was carrying a bag that was quite heavy and I fell forward and the bag just dragged me forward and I fell down to the ground."
Mrs Feargrieve said: "It was a distressing day - it shook me up very badly and I was quite disgusted.
"I was a bit shocked that he put a ticket on it after they put that information on (the car) for him to see."
Mrs Feargrieve said she hoped that highlighting her case might "help other people in the future".