Mum and daughter will not move out of Mansfield 'garden bodies' house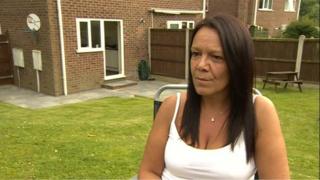 A woman says she and her teenage daughter are determined not to move from their home despite the bodies of a murdered couple being discovered in their back garden.
Sue Bramley said she had "shed an awful lot of tears" since the bodies of William and Patricia Wycherley were found in October after lying undiscovered since being murdered by their daughter and son-in-law in 1998.
Susan and Christopher Edwards have each now received life sentences with minimum terms of 25 years for shooting dead the Wycherleys at the property in Mansfield, Nottinghamshire.
But Ms Bramley said she and her 15-year-old daughter had been happy in the rented property in Forest Town.
'Lovely house'
"A lot of people have said, 'How can you possibly still live there?'," she said.
"But I love our home. We have got a great garden and we have had a lot of happy times here.
"I have lived here all this time and the Wycherleys have not done me any harm. They are not going to do my any harm now. I am going to stay."
When they moved into the semi-detached house in Blenheim Close eight years ago, Ms Bramley said the house "needed some work doing to it" but had been "modernised" and was "lovely".
The garden was "a bit shabby" and grass would not grow in the area where it would later be discovered the Wycherleys had been buried, so Ms Bramley turned it into a bed for her daughter to plant flowers.
"They didn't do very well either but I never really thought anything of it," she said.
"We used to have birthday parties in the garden, which my young nieces and nephews used to come to and they used to dig in that area. My nephew would bury his cars and my niece would have to dig to find them and I just think, 'how close, how close'."
In October 2013, Nottinghamshire Police contacted Ms Bramley to say they believed "an incident" had happened at her home and asked if they could dig up the garden.
"Teams of men", she said, and sniffer dogs arrived and at the end of the day they brought in a digger.
"Within three hours they stopped using the digger and they started using a little trowel and I saw a little bit of something and I thought, 'could that be a bone?'."
'Went to pieces'
Ms Bramley went off to work as a phlebotomist, collecting blood samples from patients. Ten minutes later she received a call from the police to say human remains had been found.
"That's when it all changed for me. It was real and it was terrible," she said.
"I went to pieces. I came home and all these people arrived in white suits. I've lost track of what happened, I was so emotional."
The bodies were taken away "peacefully and respectfully", she said, but the situation was "unbelievable".
After shooting dead Mr and Mrs Wycherley, the Edwardses stole thousands of pounds from them by siphoning off their pensions and benefits and selling their home.
"What they have done to the Wycherleys was beyond words but I always thought [about] what they have done to me and my daughter as well. What we have been through, what we have had to live through."
She said her daughter had been "amazing".
Ms Bramley added: "She had exams the day after the bodies were unearthed and she carried on. I am so proud of her."
"Unless you have been in this situation, which I don't think anyone has, nobody knows how you are going to handle it. It has been really difficult but I have had so much support from family, friends, CID and the police. You take it day by day."
'No reaction'
The trial heard the Edwardses had been visiting the house as recently as May 2012 to check on the garden.
Ms Bramley, who was in the public gallery, said that news had "freaked her out".
She said seeing the first artist's impression of the Edwardses in court caused her to "feel anger towards them".
"I cried and cried and cried," she said.
"Even up to getting the phone call on Friday telling me the verdict, I cried. I don't know why I cried but I did. Relief that they have been found guilty.
"I sat in court watching them. No reaction from anything. They sat like they were listening to the weather or the news."
It was only five weeks ago that the ground settled and the garden was able to be returned to normal. In tribute to the murdered couple, Ms Bramley has bought a plant for the area where the Wycherleys were buried.
She said: "It's a mark of respect to show that I care. It's just something for them.
"I feel for them, I feel quite close to them although I never knew them. I feel sorry for them, I feel like I wanted to look after them.
"I have shed an awful lot of tears over it. It all being back on the news all the press being out. I thought I was back in October again but I am all right. I have dealt with it."